Exercise After Tummy Tuck
Tummy tuck, medically known as abdominoplasty, is a procedure to make your belly look slim and fit again by removing the saggy skin and tightening the underlying abdominal wall muscles. After weight loss surgeries, tummy tuck often becomes almost a necessity for some patients, because of the redundant skin around the abdominal area. If, after pregnancy, the abdominal wall muscles are separated, a women may also be in need of abdominoplasty surgery. Especially when the gap developed between the right and left abdominal muscles resulted in loose belly skin.
Other people will need tummy tuck surgery combined with liposuction, to remove excess fat and to get a flat and tight belly.
Almost all of the patients who will have a tummy tuck ask: 'how soon after abdominoplasty can I start exercising again?'.  To exercise is important of course, but eating healthy is just as important. After a tummy tuck surgery, patients should eat mostly vegetables and protein. They should keep away from sugar, processed foods or simple carbohydrate. Good nutrition is necessary for healing. Eating healthy will speed up the healing process.
Abdominoplasty is not an easy procedure. By not following the exercise guidelines and by forcing yourself too much, you may create a lot of problems after the procedure.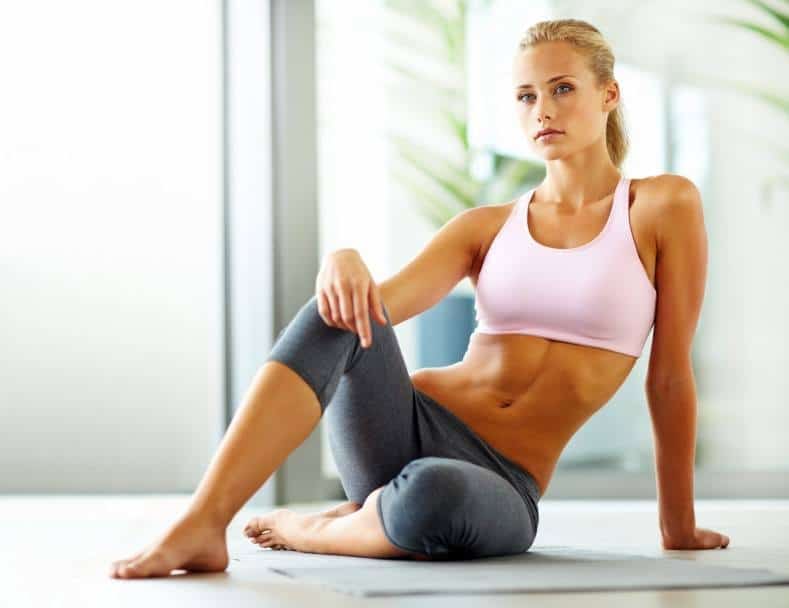 The first 3-4 post-operation days:
Patients need to bend a little when standing up and should only walk short distances. Walking or moving around, even for a short period of time, helps to prevent the formation of blood clots. Drinking at least 2 liters of water per day is also very good to hydrate the body and to prevent some risks.
4 Days post-op
The body will start giving signals when there is no longer need for bending and standing up completely is possible again. At this stage the patient can walk longer distances a number of times a day.
7 days post-op
At the second week after the tummy tuck procedure, it is advised to walk 30 minutes per day.  Body signals clearly indicate what the pace should be. It should be never a fast speed but a normal one.
14 days post-op
After the second week, until the 4th week walking is still the best exercise. It will stimulate recovery. Regular walking is key. Each and every day, in the open air, 30-45 minutes walking will promote the health process enormously.
30 days post-op
If you like working-out in a fitness saloon, you can pick up fitness after 4 weeks. However, you should do your exercises in a moderate level. Heavy weight lifting is not advised at this stage. You can start jogging and lifting light weights as the abdominal muscles have undergone repair and have to be built strong again.
6 weeks post-op
Between 6-8 weeks, you can start swimming to use your entire body. Your abdomen muscle groups are expected to have healed 90% by this time. You can start doing belly exercises such as crunch and rolling planks. However, you should not force yourself heavily as your body is still in the healing process.
8 weeks post-op
After 8 weeks, you can go to your normal routine fitness program without any limits. The healing process has been completed.
Following the exercise guidelines after a tummy tuck procedure is of crucial importance. If you would force yourself and start to exercise too soon after the surgery, you will be facing some serious risks.
The incision for a tummy tuck extends along the lower abdomen from hip to hip and around the belly button. The stitches on the incision are dissolvable and will disappear within a few months. However, if you do not follow the guidelines, the stitches could open. Or a bleeding could occur. While making exercise, your heart rate and blood pressure is increasing. This could cause bleeding at the operation area and lead to further complications.
Multiple stitches are placed to correct and reinforce the gap between the abdominal muscles. Starting too early doing heavy workout, the exercises related to belly area can damage the stomach muscles and skin closure. If the abdomal muscles after surgery would separate again, despite having had a tummy tuck, you may still show a round appearance of the abdomen. And that is exactly what you no longer wanted.
The other risk is Seroma, or fluid accumulation. Seroma can happen after a tummy tuck surgery. As long as it is a small amount of fluid, the body will absorb it over time. But, if you start to exercise too soon, the risk of a large Seroma increases and may require further treatment.
Of course, the plastic surgeons of MCAN Health in Istanbul emphasize the importance of a successful plastic surgery, but they also point out the huge importance of after-care. If the patients follow the exercise routine advised by their plastic surgeon, together with the other after-care instructions, the desired result is easily achieved.